Today was my Haarlem day.
It's a short train ride to Haarlem, about 15 minutes. In fact, when I was first planning this trip, I was going to stay in Haarlem. It would have been a nice place to stay, I guess, pleasant to go back to after a day in Amsterdam. But I'm glad I'm staying in Amsterdam. Haarlem was a nice place to visit, but I wouldn't want to live there.
Grote Kerk
The Grote Kerk, also known as St. Bavo's, is maybe my favorite church I've seen on this trip.
A few things about churches in the Netherlands:
A lot of them aren' t churches anymore. Very few Netherlanders are religious, so a lot of the churches have been converted into other things: museums, markets, and in at least one case (as I discovered today), a brewery.
The old churches were once Catholic, but during the Reformation iconoclasts destroyed all the symbols and decorative elements that, in their view, came between the people and God. So all these big churches have rather sober interiors.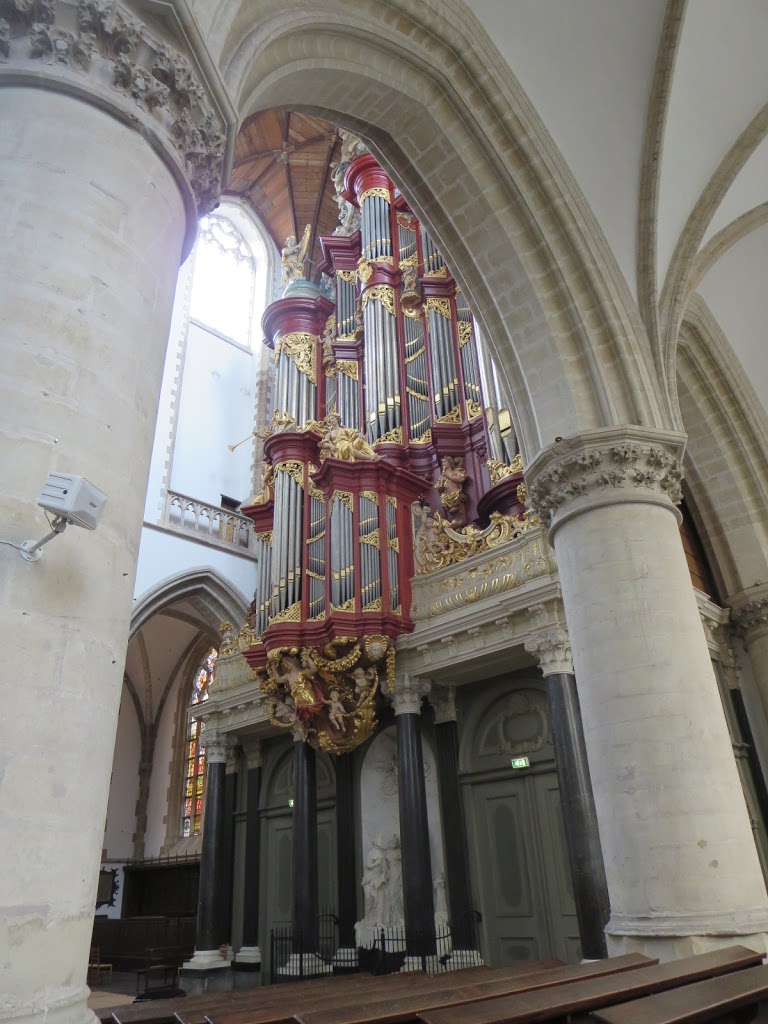 Haarlem's Grote Kerk is no exception, but it is also beautiful in its sobriety. And it has a famously great and beautiful organ, one that ten-year old Mozart came to play. I was lucky to be there while the organist was practicing, so I got to hear the organ, and it did sound pretty nice.
Franz Hals Museum
Haarlem was the home of the great 17th-century portrait painter, Franz Hals, whose name is spelled with only one A. The Franz Hals Museum was my next stop. I knew next to nothing about Hals before visiting this museum, but it was a great museum, and I learned a lot. Though not all the art in the museum was by Hals, they do have a good number of his works. They also have an excellent video introduction that talks about Hals's live and also goes into a lot of detail describing his painting technique. After that, seeing the actual paintings was a revelation. I took a lot of pictures of the paintings and some close ups of details, because it's so interesting to see his technique, which is remarkably similar to what painters like Manet and Monet (both of whom traveled to Haarlem to see Hals's work) and Van Gogh (who was also very familiar with Hals and was a big admirer) did 300 years later.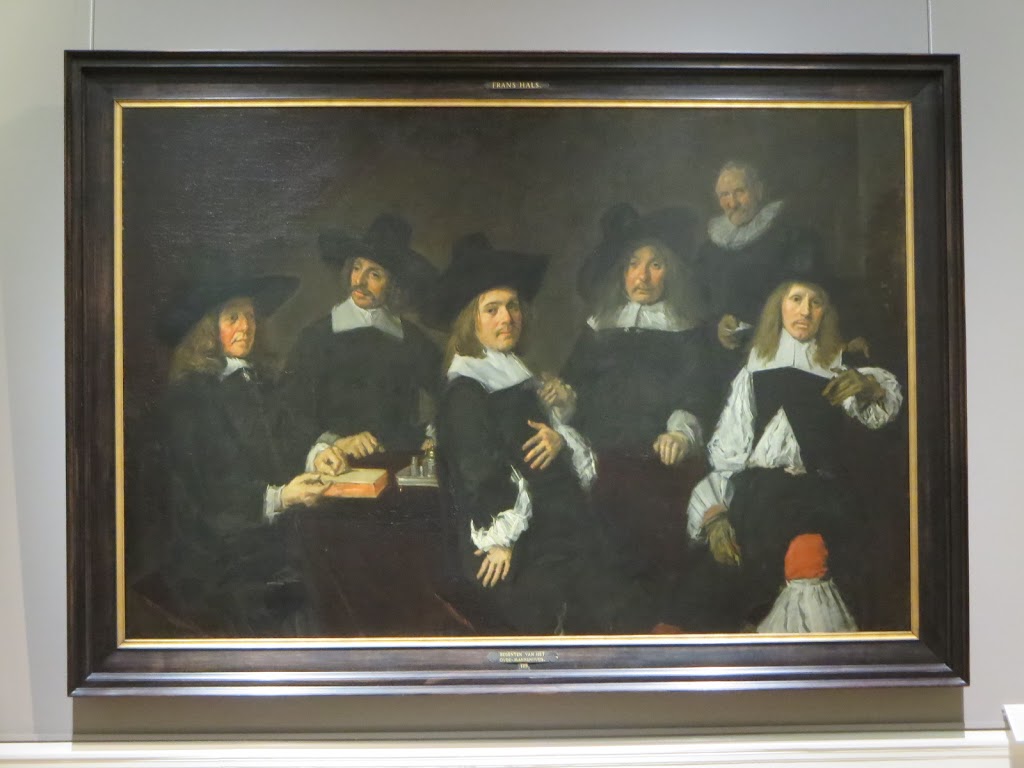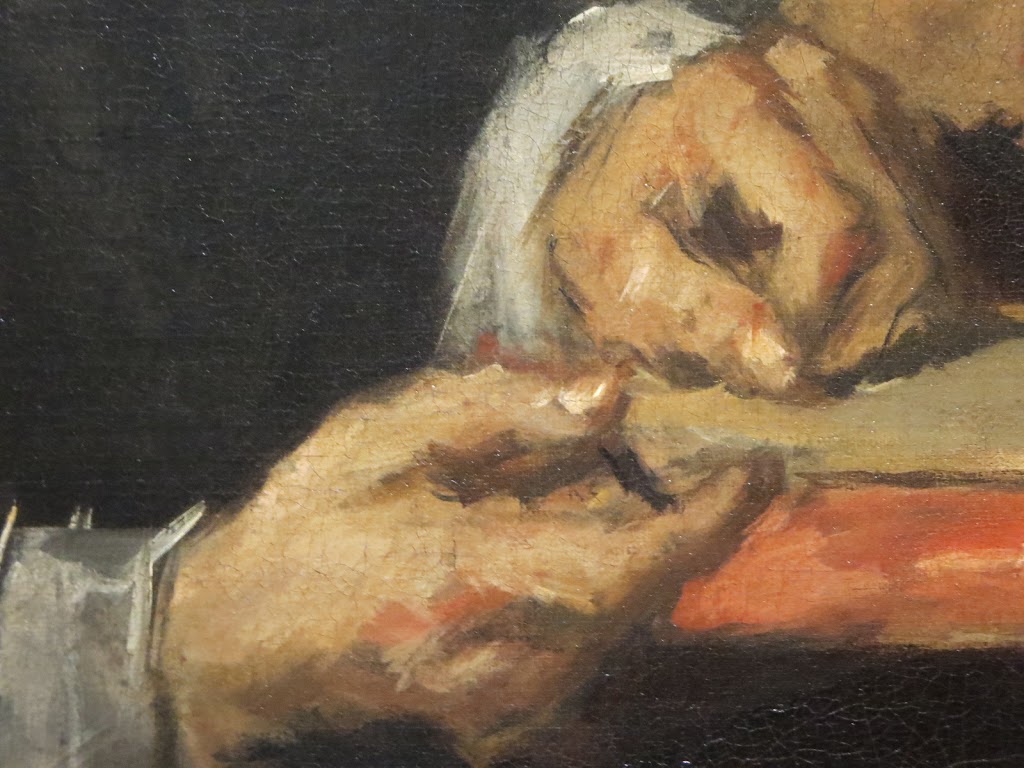 I've never been an especially big fan of portrait painting, but today I became a convert.
Catholic Cathedral
Next I went to see the cathedral. The guy I spoke to at the tourist information center recommended it. From the outside it looked very impressive, but the inside had nothing of interest, and I was sorry I wasted the time to walk to it, especially when I learned that it dates from the late nineteenth and early twentieth centuries. Why travel all the way to Europe to see a church from a hundred years ago?
After a nice lunch back at the Grote Markt (the square adjacent to the Grote Kerk), I went to De Adriaan windmill. (That's Adriaan with two As.) The mill was built in 1778, but it burnt to the ground in 1932 and wasn't rebuilt until 1999. It currently serves as a museum and isn't a working mill. But the tour did a great job of showing the workings of the mill, and I was highly impressed. From the design of the sails or wings, to the technology of the millstones, to the way the mill rotates depending on wind direction and how the brakes work, it was all fascinating.
Beer and food
My final stop in Haarlem was the Jopenkerk Brewery. So, yeah, "kerk" means church. It's in a converted church. I enjoyed two of their beers before heading back to Amsterdam. I met Jhena (the girl from the tour yesterday) for dinner (we went to a little hole-in-the-wall Asian place, and then I got home just before the big hailstorm hit.
Squeezing a lot into the last two days
With just two days left in Amsterdam, I feel like I don't have nearly enough time to see everything I want to see. I have some must-see museums and some really-wanna-sees. Tomorrow at 15:00 I have a timed admission ticket for the Van Gogh Museum (must-see), and that's right by two other museums: the Rijksmuseum (must-see) and the Stedelijk Museum (really-wanna-see). I will probably limit my visit to the Rijksmuseum and only see the highlights. Other must-sees are the Dutch Resistance Museum, the Jewish History Museum, and really-wannas include the Amsterdam Museum, the Amstelkring, and the Hermitage (Amsterdam's branch of the original in St. Petersburg). And tomorrow night I have a ticket to a performance at the Concertgebouw. And Friday evening I have to get to the airport to fly to Oslo. Too much to see and do. Too little time. It doesn't matter how much time I have for vacation; I never have enough!