5:00 a.m.
I just got dropped off at Denali River Cabins, where I have an hour to wait before my 6:00 departure. There's a restaurant that's supposed to open at 5:00, so I can get breakfast. A few other brave souls are here waiting for it to open as well. I'm sitting here wearing a T‑shirt; they've all got sweatshirts and/or fleeces. The restaurant just opened, so I guess I'll go in. It's a beautiful morning, cool, clear, still, the sound of a rushing river in the distance.

I'm inside now Ordered a veggie omelet. I already had coffee in my cabin, so no need for that here.
I'm rambling. I didn't bring my book — didn't think I'd need it — so I figure I might as well write.
Someone just came in wearing gloves. I thought it was comfortably cool outside. It's too warm in here.
There's about 20 tables in here, and it could easily hold twice as many. There's a bar in the corner; other than that, it's a plain, open room with vaulted ceilings and posts and beams.
I just counted how many pages I've written. This is page 65. Gee I'm prolific.
It was weird to watch TV last night. They get Los Angeles stations here via satellite, so I watched local LA news before bed. They didn't report on anything national or international. I have seen snippets of news–front pages of newspapers–on this trip. Seems to be serious trouble in Liberia, plus Vancouver won the 2010 Winter Olympics.
10:30 a.m.
Animals seen so far: Red Fox, Dall sheep, Bull moose, Caribou, Willow ptarmigan (the Alaska state bird).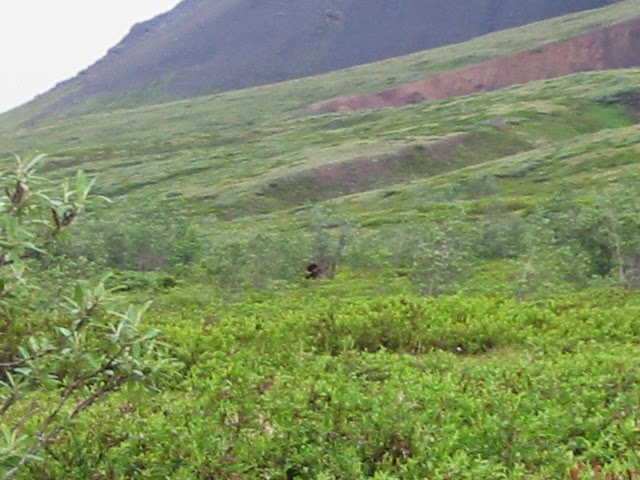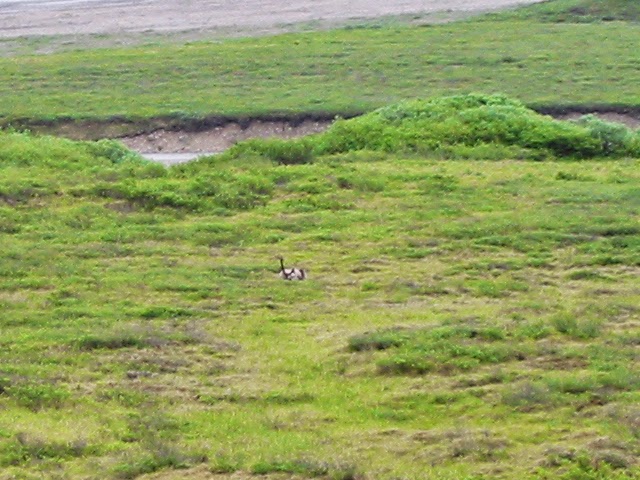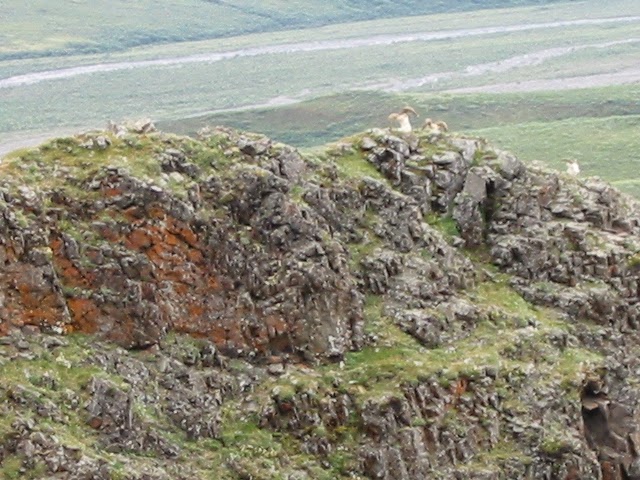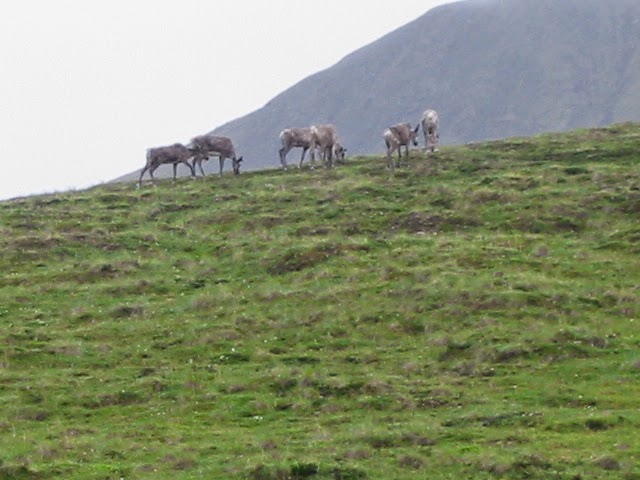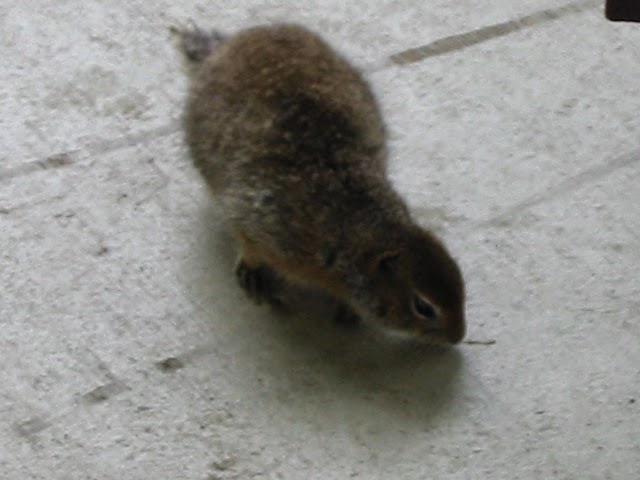 (I didn't get photos of all the animals.)
11:30 a.m.
Grizzly bear and three cubs.
1:50 p.m.
I'm at the Kantishna Roadhouse. Six hours is a long way to drive for a chance to see animals really far away and eat a turkey sandwich.
It was actually a thrill to see the animals, but maybe I'm just jaded, or tired. If we're lucky, the animals will be much nearer to the road on our way back. Even the driver, Kevin, who started out seeming really knowledgeable and interesting, became annoying after a while because he has way too much to say about everything and seems to love the sound of his own voice. I guess I'm just tired and ready to go home.
They're starting a presentation on sled dogs and the Iditarod.
3:10 p.m.
The kid who did the presentation did a really good job. His father, Emmitt Peters, won the Iditarod several times.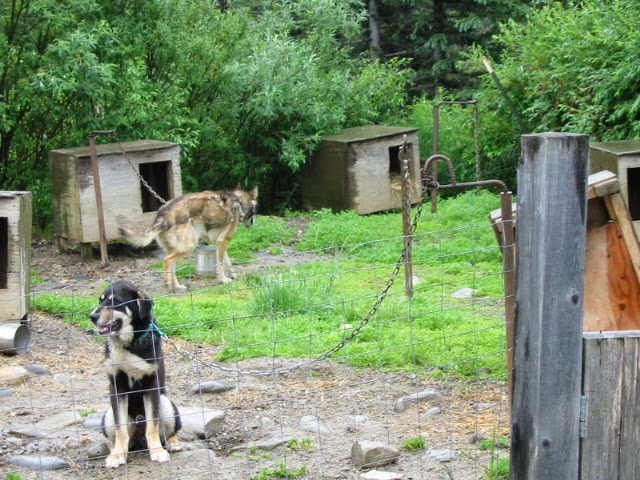 We're on our way back now. Already spotted a moose mother and calf.
3:45 p.m.
Beaver
4:45 p.m.
We got a really good, closer look at the mama grizzly and her cubs. For a while, the cubs were separated from her; then they found her, and they were being very playful.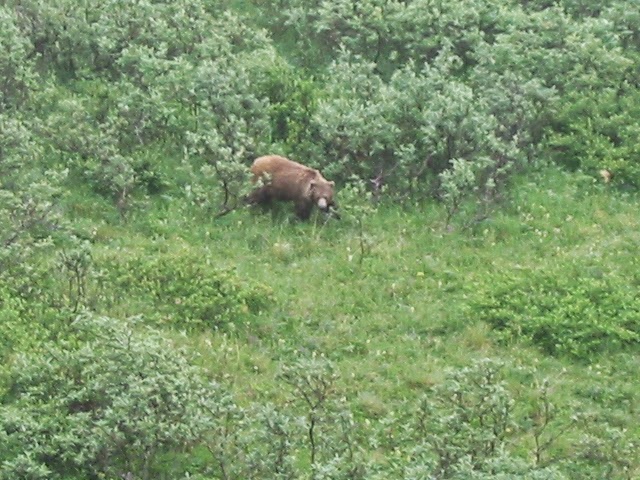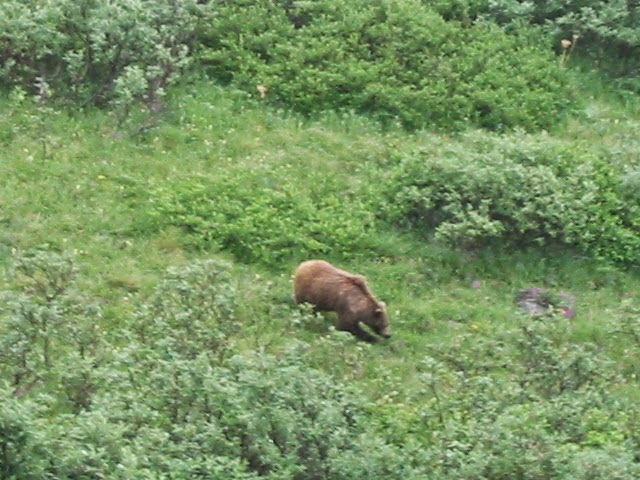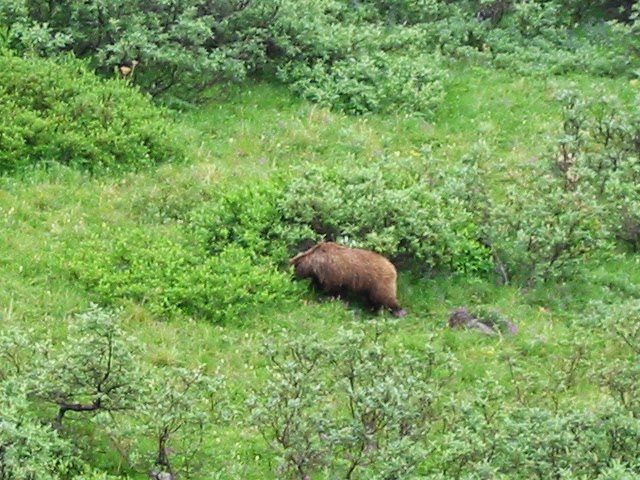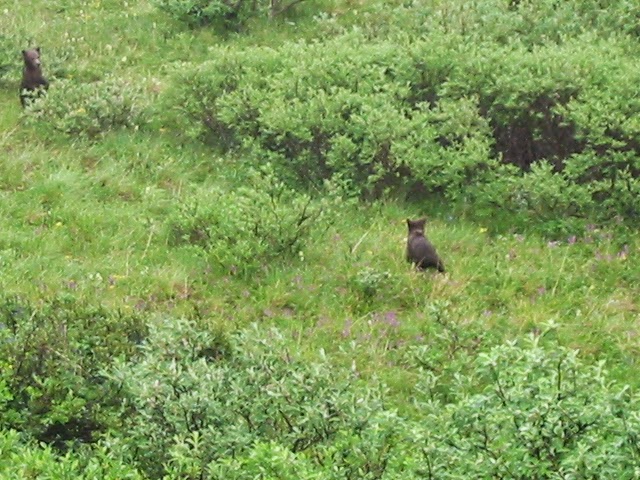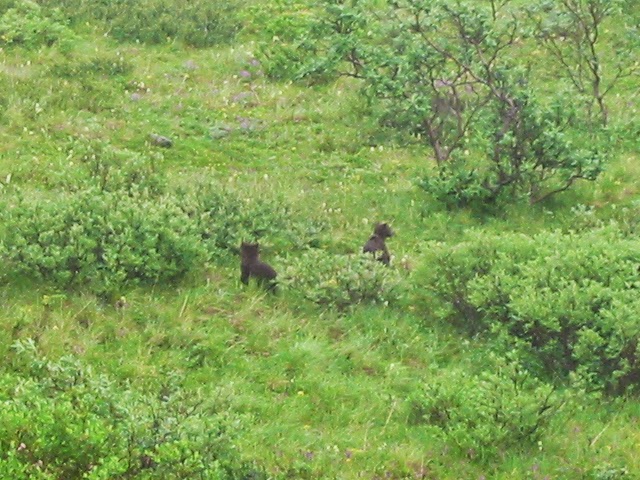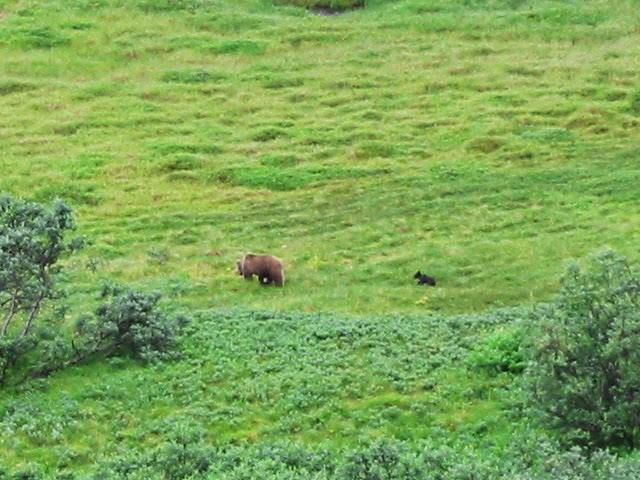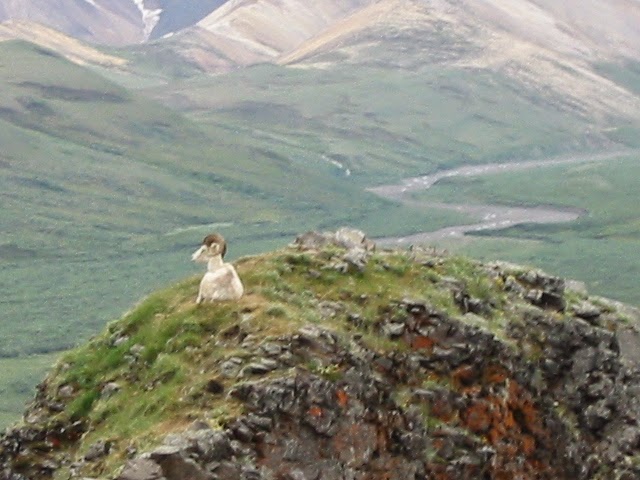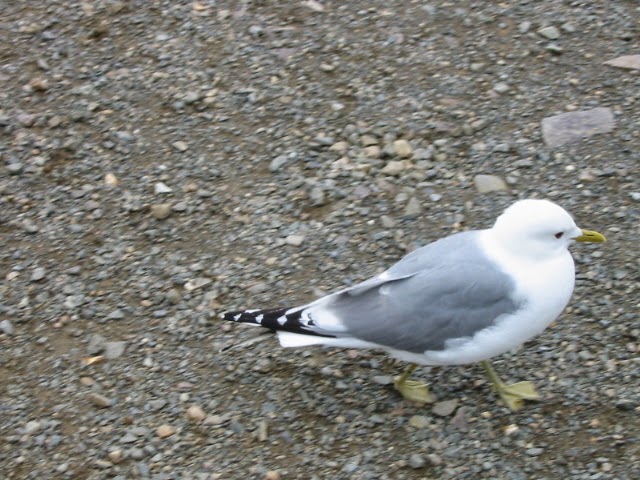 8:20 p.m.
I am so glad to be off that bus. As wonderful as the wildlife show was, it was not worth 14 hours on that bus. Part of the problem was that there wasn't much wildlife to see past the Eielson Visitor Center, about 4 hours in. The lunch was meager: turkey sandwich, dollop of cole slaw, and a cookie. I enjoyed Emmitt Peters, Jr. I was impressed that he was so good about speaking to the crowd and answering questions at a fairly young age, maybe 19 or 20. But I think the main reason I came out of that bus so irritated and so glad it was over was the driver, Kevin. He just had to give SO MUCH information about everything. Sometimes I just want to observe, not have everything explained in such minute detail. The worst was his complete history of chefs at the Kantishna Roadhouse. Puh-leez!
Well, I'm enjoying an Alaskan Amber, a bowl of chowder, and a salad at McKinley Village, the same place that made me that great chicken sandwich last night. I'm on my second beer, just starting to relax.
Okay, almost done with my beer, starting to mellow out a little.… Tomorrow, my first ever helicopter ride! I hope the mountain is out (it wasn't out today) AND more wildlife to see. And then a nice, relaxing, long train ride, and a good night's sleep. Tuesday, hang out in Anchorage, then HOME. I miss Rose. And my house. But this has been a wonderful trip, both by meeting my expectations in some respects and by completely confounding them in others.
Alaska doesn't put on its best face for tourists. It is what it is. It's an amazing place to connect with nature. But the small cities and quaint towns aren't all that quaint, not like, say, Tiburon, CA, or La Connor, WA, or Sturbridge, MA. They're pretty much what they are: places where people live and try to eke out a living among some of the best scenery and variety and quantity of wild animals anywhere. I was disappointed by Seldovia at first, but I just needed to shift my paradigm and it made perfect sense–in fact, it became enchanting. I think maybe the paradigm shift is one of the great lasting values I'll take from this vacation. I mean, the towns aren't here to entertain me. The nature–animals, wildflowers, trees–is enchanting. The people and their homes taught me how people can live in a way that's still American but with completely different values from what you'll find in small towns in, say, Illinois.