I leave in about three weeks for my next big adventure: six weeks in Egypt, Jordan, and Israel. I've received my final documents from Overseas Adventure Travel, so I can now share all the details of my trip.
I'm taking two back-to-back OAT tours. The first is Egypt and the Eternal Nile; the second is Israel: The Holy Land and Timeless Cultures. This tour includes an optional pre-trip extension to Jordan and a post-trip extension to Palestine.
About OAT
I've written about OAT before. These two trips are my third and fourth tours with OAT. I previously went with them to Argentina and Chile and to Peru and Ecuador.
There are a few things I really like about OAT. First off, there's no single supplement. I can get a single room without paying extra. That's makes a big difference; Rick Steves, for example, charges about 20% extra for a single supplement, and I've seen some tour companies that charge even more. Charter Club Tours, a local company in Ajijic, where I live, charges close to 50%, a ridiculous penalty in my opinion.
OAT tours are run in small groups, no larger than 16. This makes things happen more speedily and efficiently, and it makes it easy to get to know people on the tour. For the Egypt trip, there are 12 participants. For Israel, there are 15, of whom 8 are doing the Jordan pre-trip extension and 11 are doing the Palestine post-trip.
I've also really appreciated the pace of the OAT tours I've taken. I really don't like one-night stays, and with OAT there are very few.
One of my favorite things about OAT tours is their special activities. These include "A Day in the Life," where we get to spend time interacting with a local family, and "Controversial Topics," where we meet with people who can talk to us about national or local issues that are of serious concern. Plus there are several occasions on each trip for home-hosted meals.
My Itineraries
Egypt
You can hover over the numbers on the map to see what is where. And use the + and — buttons to zoom in and out.
Cruising the Nile
The yacht, Asiya Dehabeya, accommodates just 16 passengers and has a crew of 15. With our group size of just 12, the crew will outnumber the guests! Dehabeya (also spelled dehabiya, dahabeah, and all sorts of other ways) is Arabic for "golden one." Asiya is the name of our boat. A dehabeya is a passenger boat, typically flat-bottomed like a barge and with two or more sails.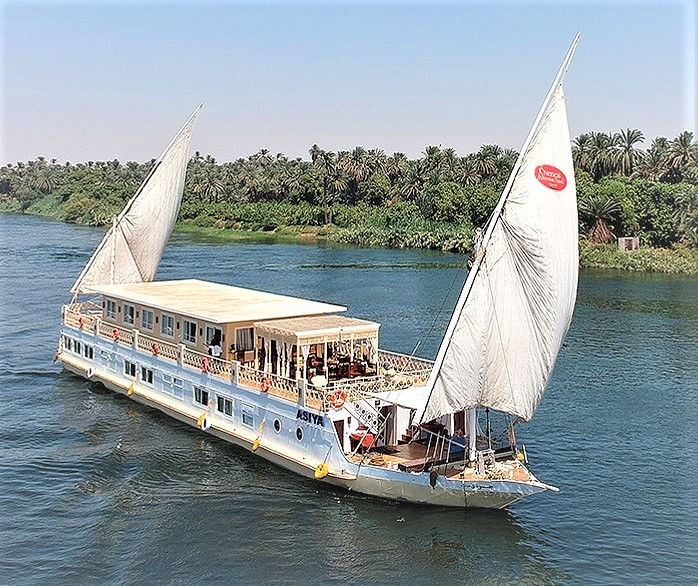 Here's what OAT says about our vessel:
This is not your typical large river ship, packed with travelers, chugging up and down the Nile (we're content to let those big boats pass us by). Instead, you'll experience a gentler, more gracious era in travel. As we glide quietly across the Nile's timeless waters, guided by the gentle winds and whims of the currents, our small motorized tender is there to nudge us along when we require assistance. The intimate size of our vessel also allows us to visit ancient temples at quiet times, and gives us access to the smaller islands and riverside villages that travelers on the big river ships can only dream about. And at night, we'll be far away from the bright lights and lines of the noisy tourist steamers. Quietly moored in secluded locales, we can spend peaceful evenings relaxing on deck, gazing out at the Nile to imagine a time when Cleopatra and Julius Caesar drifted past these very same waters aboard the Egyptian queen's gilded barge.
History
Somewhere along the way in my education, I must have learned something about ancient Egyptian history. But I'm sad to have to admit that I remember almost nothing. I should probably do some reading in advance of the trip so I'm not a complete ignoramus about what we're seeing.
Of course we'll have guides to provide context, but still, it's nice to start with an understanding about the ancient culture (or cultures) that created so many temples and tombs and left behind so many artifacts.
Jordan
The OAT tour in Jordan doesn't actually start until October 12, so that gives me two days on my own. I've made arrangements for a driver to pick me up at the airport in Amman and drive me to Wadi Rum, where I'll spend two nights in a Bedouin camp. Then the driver will pick me up and bring me back to Amman to join the tour.
About Wadi Rum
My visit to Wadi Rum might be the part of this trip I'm most excited about.
As you can see from the map above, it's a long way from Amman, and it's going to take probably at least 4 hours to get there. Since my flight doesn't arrive until 3:30 in the afternoon, it's going to be probably close to 9pm before I arrive at the camp where I'm staying. I was in touch with the owner of the camp, Mhareb, and he said there's no problem with the late arrival, and that he would even hold dinner for me.
There are a lot of highly rated camps in Wadi Rum, and it was hard to pick, but Mhareb tipped the scales in his favor. Here's what he says on the website for the camp.
Hi, my name is Mhareb, local tour operator and owner of Wadi Rum Desert Adventures.

Being a local means I am in love with the desert and I know the best spots of Wadi Rum – that's why my camp is located in a special area, far from the other camps.

My passion is to share this special place in the most local way possible with individual travellers or small groups.

Our team is comprised of local Bedouins who are all born and raised in Wadi Rum. During your stay with us, you'll have time to experience real local culture. From discussing life in the desert to sharing stories around the campfire after seeing the day's sights, you're bound to learn about Wadi Rum's history and the current way of life with us.

https://wadirumdesertadventures.com/about/
I'll plan to write more about Wadi Rum after I've been there, but if you Google it and look at the pictures, you should get a good idea about why I'm so excited to go there.
Which is not to say I'm anything but excited about this entire trip!
Israel and Palestine
Controversial Topics in Israel and Palestine
The two "controversial topics" we will explore during our visit to Israel and Palestine are issues I've thought a lot about. As a more-or-less secular Jew growing up, I attended Hebrew school, had a Bar Mitzvah, and readily accepted the version of history about Israel that they taught us. That included Israel's biblical legacy and their acquisition of the Golan Heights and lands west of the Jordan River in the 1967 Six-Day War.
It took me a long time to rethink my views about Israel's right to exist and their treatment of Palestinians. I have come to believe that the Bible should never have been used to justify the establishment of a Jewish homeland in the Middle East. I'm also in favor of the "Two-State Solution," creating an independent Palestinian state in the West Bank.
So I'm eager to hear from people who live in these disputed (or occupied) territories.
In the Golan Heights we will have a conversation with a retired captain of the Israel Defense Forces. Then we will have lunch at a restaurant run by a Druze family and will meet with members of the Druze community in the village of Majdal Shams.
During the post-trip extension in Palestine, we will visit a Jewish settlement near Bethlehem to hear their perspective of Israeli-Arab relations.
Curiously, OAT doesn't actually refer to either of these experiences as "Controversial Topics." I suspect they are treading lightly here. I will be curious to talk with our tour leader and with other travelers on the trip to see what range of opinions exist. Controversial topics can be sensitive for a lot of people. I wonder if others will share my views. And I wonder if (or how) my views will evolve during this trip.