This is the itinerary for Rick Steves' three‐week Best of Europe tour: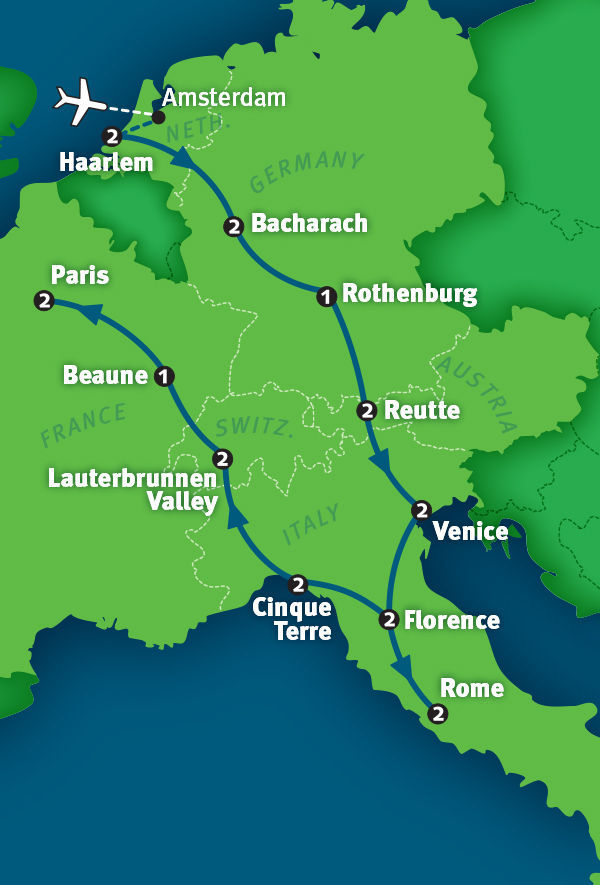 He also provides this list of sightseeing priorities based on how many days you have:
5 days: Paris, Swiss Alps
7 days, add: London
10 days, add: Rome 14 days, add: Rhine, Amsterdam, Haarlem
18 days, add: Venice, Florence
24 days, add: Cinque Terre, Rothenburg, Bavaria
31 days, add: Bath, Salzburg, Hallstatt, Nice
37 days, add: Provence, Barcelona, Madrid
43 days, add: Vienna, Prague, Berlin
45 days, add: Bruges
Nowhere in these itineraries will you find any of the places I went on my last trip.
Perhaps not coincidentally, I was repeatedly asked why I decided on my Nordic itinerary, questions I was never asked when I went to Paris or Italy.
So why did I go to Stockholm? And why are the Balkans high on my list for my next European trip?
To be fair, I've already been to many of Rick's top destinations: Paris, London,Venice, Florence, Cinque Terre, Salzburg, and Vienna. And as I think ahead to future trips, I increasingly want to be more off the beaten path. One of my least favorite things in Europe is running into throngs of group tours, and avoiding that means avoiding places where group tours go (or going when the group tours aren't there). Okay, that's impractical, but I do love being places where there are few tour groups.
I recently saw Rick's two‐hour program about Hidden Europe. He describes twelve destinations that a lot of people don't find:
Civita di Bagnoregio, Italy
San Sebastián, Spain
Český Krumlov, Czech Republic
Tangier, Morocco
Lucca, Italy
Mostar, Bosnia‐Herzegovina
Hallstatt, Austria
The Julian Alps, Slovenia
Volterra, Italy
Ærø, Denmark
Rovinj, Croatia
Hydra, Greece
Thanks to Rick I've managed to find three of these places, and all were worth the visit (although a shit‐ton of other tourists also found Volterra on the day I was there). I'd like to go to more, and that's why the Balkans are near the top of my list. Three of these places are in the Balkans, and two others are near enough that I could include one of them on an extended itinerary.
So how about starting in Prague, then Český Krumlov, the Julian Alps, Rovinj, Split, Mostar, and Dubrovnik? Total distance (by car) is just over 1000 miles, and I don't know how it would work by train and/or bus, but it's not a bad starting point for planning an itinerary.