… but getting where you're going is nice.
Consider this: Yesterday, noon, I walked to the bus stop, got on the bus, rode to the light rail station, took the light rail to the airport, walked to the terminal, went through security, walked to the shuttle train to take me to the south satellite, got on the plane, sat there for 7‐odd hours while we flew, got off the plane, walked a lot more, went through passport control, walked a lot more after that, waited a while longer, got on another plane, sat there for almost 4 hours while we flew, got off the plane, walked a lot more, got on another train, rode for a bit, got off the train, walked some more, tried about half a dozen lockers before I found one that worked, stowed my luggage, and walked a lot more. Then went back to the train station, got my luggage out of the locker, got on another train, rode for an hour, got off the train, walked some more, got on a tram, rode a while, got off the tram, walked some more, finally arrived at the place where I'm staying the next three nights. And in between all the walking and riding and sitting there were stairs and escalators and more stairs and more escalators.
Let's just say traveling sucks.

But being in Brussels was nice. It was kind of warm and I was kind of tired and it involved a lot of walking, but it's a very attractive city.
And being in Ghent is delightful. The evening cooled down a bit, and I was still tired, but for the first time since I left the house yesterday, I felt relaxed. I had no where to still get to, no time I had to be anywhere, and drank the two best beers I've ever had in my entire life with a dinner that was entirely unremarkable but also entirely pleasant, sitting outside on a street filled with sidewalk restaurants.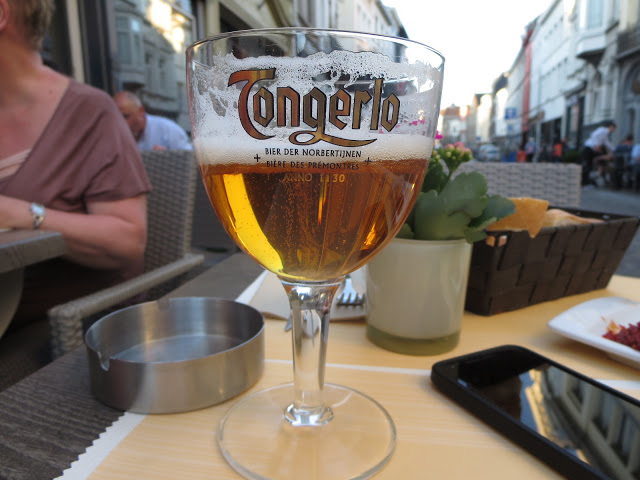 It's almost 11pm here, and except for the poor sleep to be gotten on an airplane (after my last night at home when I didn't sleep especially well) I've been up for a while. So I'm off to bed very soon.
Some observations:
Inside the Brussels airport, everything looked the way all airports look. It was extremely busy, with lots of travelers. Outside, however, it was a mess. Lots of blocked off areas that cars would normally be driving through. Crazy paths through empty parking lots to get from the terminal to the train station. People waiting to greet arriving passengers outside the terminal (because only passengers are allowed inside). Lots of temporary barriers and lots of security. Not just at the airport, but all over the city, I saw pairs of men in uniform with machine guns keeping an eye on things.
When I went to buy my train ticket, I asked if I could buy a ticket to Ghent but stop in Brussels and continue on to Ghent later. They were very helpful. A woman working there actually operated the ticket machine for me.
Brussels is primarily French speaking, but the rest of Belgium mostly speak a version of Dutch which is really pretty much the same as Dutch, but it's called Flemish. Riding the train from the airport to Brussels, the first few stops, the announcements were made in Flemish. But when we got to Brussels, they started making the announcements in French first and then repeating them in Flemish. Even the electronic boards displayed French only in Brussels.
No matter how tired I was, and regardless of the crowds of tourists, entering the Grand Place in Brussels just took my breath away. That's a pretty special place. I wandered around the area around the Grand Place for a while, and then I made my way to the upper town. And then I realized I will have to make it back to Brussels, probably on Wednesday on the way to Antwerp, so I can spend more time exploring the upper town and visiting some of the museums there.
Brussels Central train station is the European equivalent of New York's Penn Station. It is not a place where you arrive in the city and are impressed. It's ugly and smells bad and has no pleasant places to wait. The luggage lockers were mostly not working, and they only accepted exact change, and there was no change machine nearby. I had to buy an ice cream to get change. Which isn't terrible, I guess.
Tomorrow I'm planning on going to Bruges. Then Tuesday I'll spend the day here in Ghent. I'd prefer to swap those two days and not get on a tram and a train again tomorrow, but all the museums are closed on Mondays, and while that's true in Bruges as well, I'm not really going there to go to museums, so I think it will be all right.