I made a day trip to Bruges today. It was very nice. But I liked the movie better.
There was nothing wrong with Bruges. It's exactly what it's supposed to be: postcard pretty, cobblestoned, with charming bridges crossing charming canals, and with all kinds of shops that are expert at appealing to the throngs of tourists.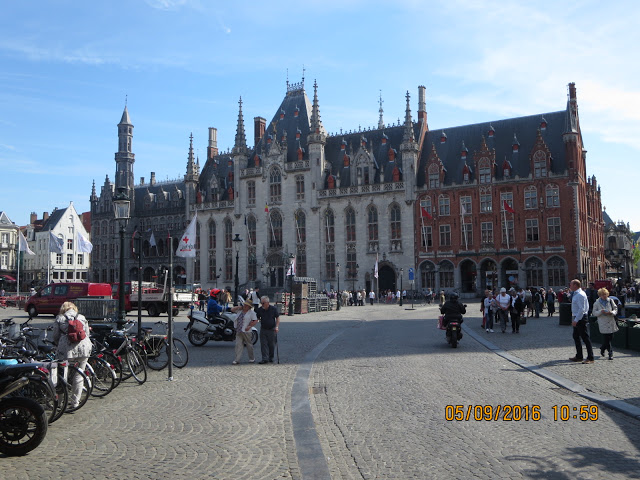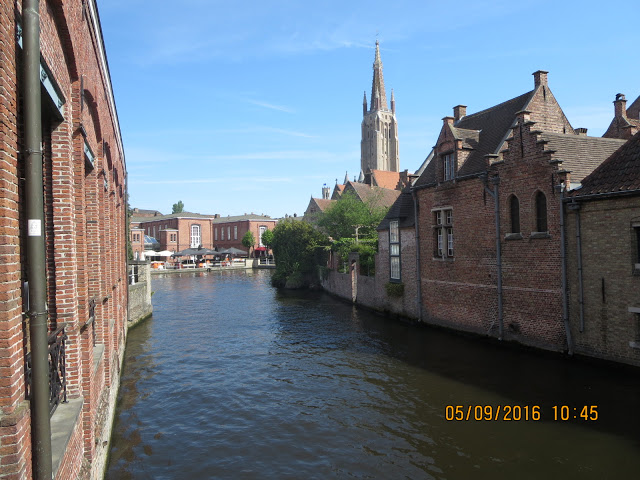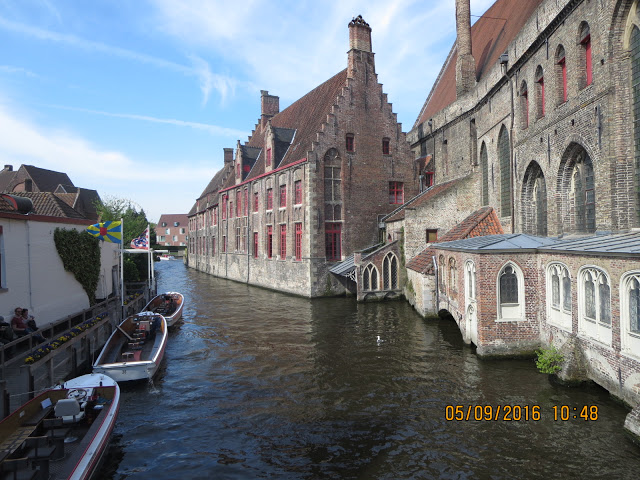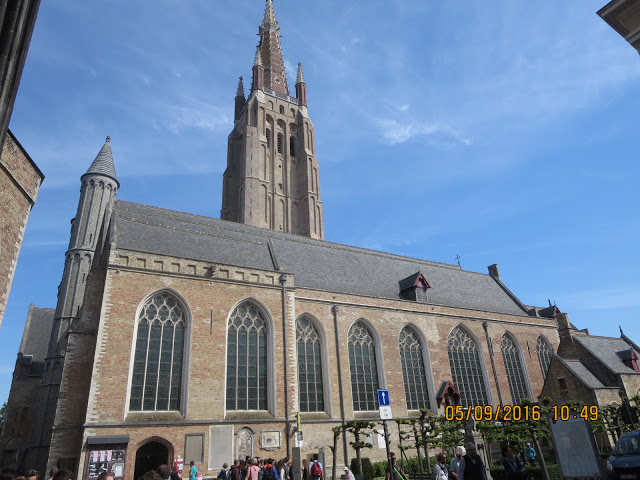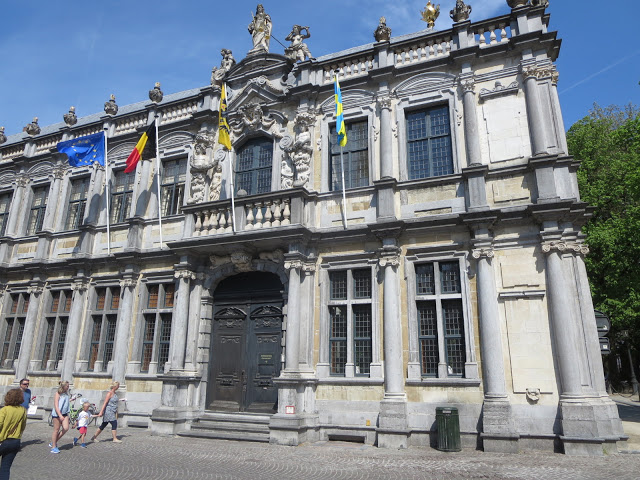 Maybe it's not Bruges' fault that its many charms didn't work their magic on me. Maybe I was a bit too jet‐lagged*. Or maybe I've been to so many charming European towns that I'm a bit jaded. But I also got the feeling that everywhere I went, everything I saw (outside some of the most striking and impressive edifices, which were quite remarkable) looked like everything else. Getting off the beaten path revealed streets that were all interchangeable.
But I do think Bruges fails in the category of authenticity. It doesn't feel especially like a real city. It feels like it exists to serve the tourist industry.
In any case, I'm glad I'm staying in Ghent, which, though I haven't explored it yet, seems to be made of of buildings and public spaces that each have a unique character.
After I did all the required sightseeing, ate friets with mayonnaise**, and evaded hundreds of school children on field trips, I rented a bike and rode along a lovely tree‐lined canal to the village of Damme, about 7 kilometers away, where I found a lovely tea house with a courtyard and had a beer and an excellent 8‐euro cheese plate that would have gone for at least $25 in any US restaurant. They were having an art festival in public spaces all over town. It was called "MesDammen in Damme," and it was all work, mostly sculpture but some other other media as well, about women by women artists. There was some really good work, and Damme is a quiet, charming village that I'm glad I visited.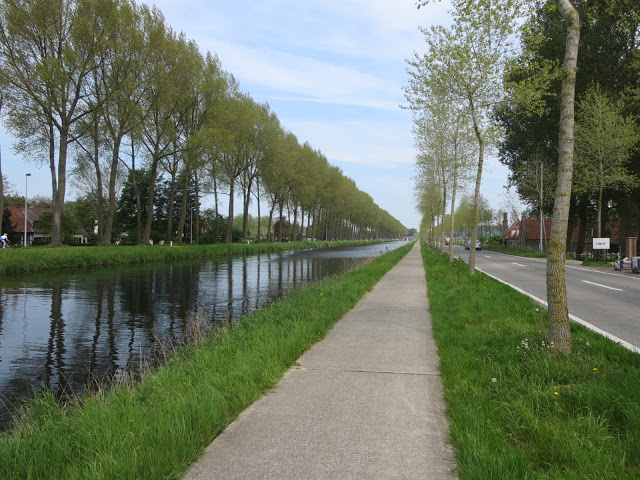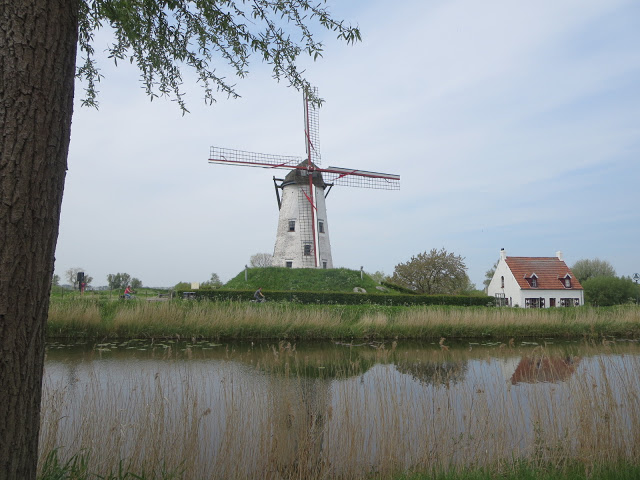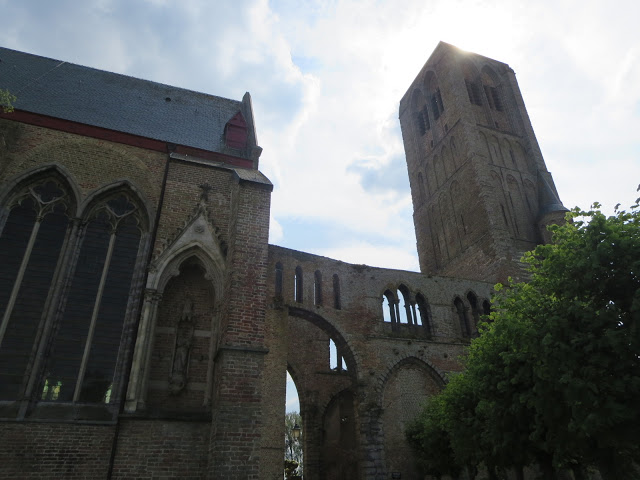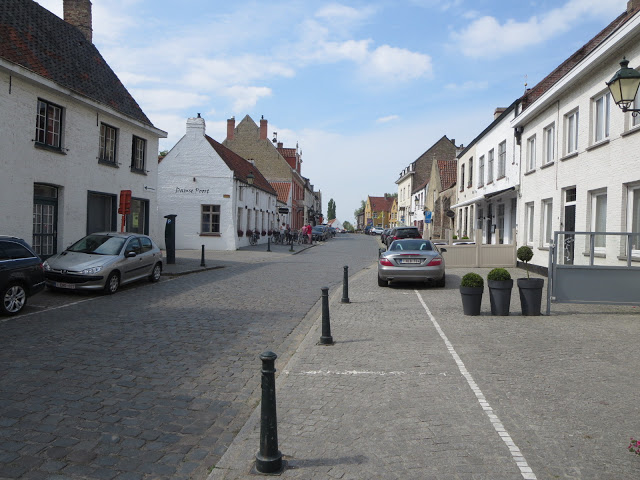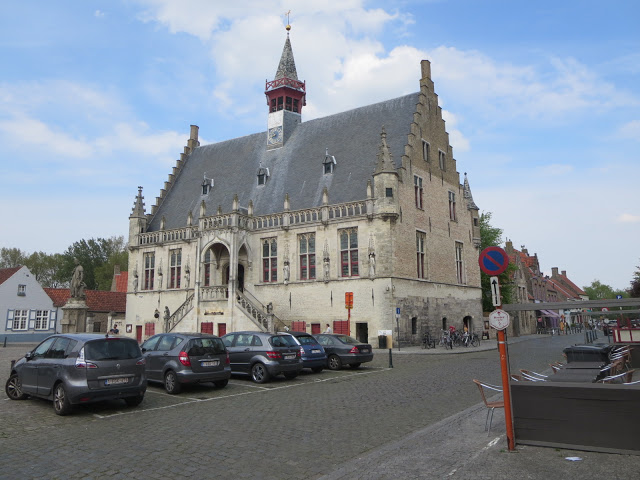 Back in Bruges, I had to buy some chocolate. I tasted a few samples and then got a marzipan log covered in dark chocolate plus a small assortment of gorgeous pralines*** and truffles. Then I caught the train back to Ghent.
It was another warm sunny day, but by late afternoon the clouds started rolling in, and it looks like rain is in the forecast for the next few days.
My original plan was to spend tomorrow in Ghent and then head back to Brussels to see a few museums I didn't have time for on Wednesday on the way to Antwerp. But Brussels isn't really on the way to Antwerp, and I really don't feel like schlepping my luggage and dealing with those terrible lockers at the Brussels station. So I am going to head to Brussels tomorrow morning, and then come back and spend the afternoon and Wednesday morning here before heading to Antwerp on Wednesday afternoon.
The place I'm staying is pretty nice. It's on the second floor**** of a house just a few blocks walk from the edge of the historic district of Ghent. Other than a minuscule bathroom***** and creaky floors******, it's really perfect.
It's almost 11, and I've barely managed to keep my eyes open, so wish me luck for a full night's sleep.
___________________________________________________________
*I managed to stay awake until 11:00 last night, and when I woke up I was perfectly refreshed and was surprised to see it was still dark out. I checked my watch and discovered it was 1:15 am. Finally, sometime after 3, I fell back to sleep and then woke up at 7.
**Let me just say that so far, Belgian food has impressed me as the worst cuisine I've had in Europe. Except the beer and the chocolate. The best thing I've eaten so far was a cheese pastry I bought from a street vendor in front of the station this morning before catching the train to Bruges.
***Belgian pralines bear no resemblance whatsoever to their southern US namesake. They are chocolates filled with a hazelnut cream or nougat. I haven't tasted them yet, but I will.
****In Europe, second floor means two flights up. And in Belgium and the Netherlands, they say to be prepared for steep flights of stairs. They weren't kidding.
*****I've been in bigger closets that weren't walk‐in. In the shower I have to hold my elbows in close while shampooing.
******When I walk around the apartment, in addition the the floors creaking, cabinet and cupboard doors swing open.