ABOUT ME
In case you care
I hardly consider myself a great world traveler, but I love to travel and have been to a lot of places considering I got a late start. Until my sophomore year in college, I'd been to a total of six states, all in the northeastern USA. Now I've been to all 50 states, eight Canadian provinces, one Mexican state, 22 European countries, and 3 in South America.
I'm always either on a trip or planning the next one. I just got back from a four-week tour to Argentina and Chile, focusing on Patagonia and the Andes, plus excursions to Rapa Nui, Iguazu Falls, and Rio de Janeiro. Upcoming: a more relaxing vacation in Tepoztlán, Mexico and Mexico City.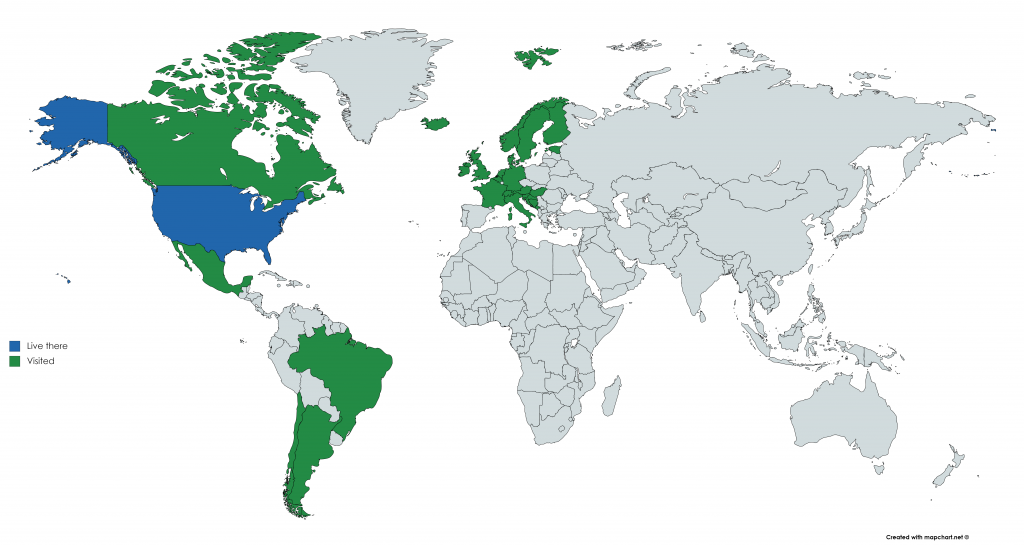 Lane Galloway
Part-time traveler, wishing I could change that
Me at Los Glaciares National Park, Argentina, 2017
When I'm not traveling, I work. Because I have to.
I am a software architect at a digital marketing agency in Seattle. I've been with my company for over ten years, and I'm now maxed out at 20 days of paid vacation. I try to use as much of that as possible for seeing the world, but since I have family on the east coast, I usually end up having to use some to visit them.
When I'm not traveling or working, I'm busy supporting the arts in Seattle, playing duplicate bridge or pub trivia, and finding new places to hike in the city or surroundings.
My Lists
Keeping track of stuff
Ten facts about me
I grew up in Massapequa, Long Island, New York State, United States of America.
Until I was in college, I'd never been outside the northeast United States.
Until I was in college, I'd never flown on an airplane.
I love architecture. When I was in high school, I planned to be an architect.
I love music. When I was in college, I switched my major from architecture to music. I have Bachelor, Master, and Doctoral degrees in music.
I don't do music anymore, except for my own personal enjoyment. I work in computer technology.
I've been in all fifty of the United States, to eight Canadian provinces, Mexico, and 22 countries in Europe.
I love to travel alone. I don't like to travel with large groups of other tourists. I love to seek out opportunities for solitude when I travel. (I don't always succeed at that.)
I love to walk.
I love to write.
Countries I've visited
(In chronological order)
Canada
France
Switzerland
Germany
Austria
Hungary
England
Wales
Liechtenstein
Italy
Ireland
Mexico
Denmark
Sweden
Estonia
Finland
Iceland
Croatia
Slovenia
Bosnia and Herzegovina
Montenegro
Belgium
Netherlands
Norway
Chile
Argentina
Brazil
US National Parks I've visited
(in alphabetical order)
Acadia (Maine)
Arches (Utah)
Badlands (South Dakota)
Bryce Canyon (Utah)
Crater Lake (Oregon)
Denali (Alaska)
Everglades (Florida)
Glacier (Montana)
Grand Canyon (Arizona)
Joshua Tree (California)
Kenai Fjords (Alaska)
Mammoth Cave (Kentucky)
Mesa Verde (Colorado)
Mount Rainier (Washington)
North Cascades (Washington)
Olympic (Washington)
Rocky Mountain (Colorado)
Zion (Utah)
Airports I've flown into or out of
(USA, in alphabetical order by state, because I can't come close to remembering the actual order)
Ted Stevens Anchorage (ANC)
Juneau (JNU)
Homer (HOM)
Seldovia (SOV)
Phoenix Sky Harbor (PHX)
John Wayne (SNA)
Los Angeles (LAX)
Palm Springs (PSP)
San Diego (SAN)
San Francisco (SFO)
San Jose (SJC)
Denver Stapleton (DEN)
Boulder Municipal (DBU)
Tampa (TPA)
Hartsfield-Jackson Atlanta (ATL)
Honolulu International (HNL)
Lihue (LIH)
Chicago O'Hare (ORD)
Chicago Midway (MDW)
Peoria (PIA)
Barkley Regional, Paducah (PAH)
Louis Armstrong New Orleans (MSY)
Portland (PWM)
Baltimore/Washington (BWI)
Detroit (DTW)
Minneapolis-St. Paul (MSP)
Lambert-St. Louis (STL)
McCarran Las Vegas (LAS)
Reno-Tahoe (RNO)
Manchester-Boston Regional (MHT)
Newark Liberty (EWR)
Buffalo Niagara (BUF)
Long Island MacArthur (ISP)
John F. Kennedy New York (JFK)
LaGuardia New York (LGA)
Syracuse Hancock (SYR)
Westchester County (HPN)
Charlotte/Douglas (CLT)
Cleveland-Hopkins (CLE)
Philadelphia (PHL)
Austin (AUS)
Dallas-Fort Worth (DFW)
George Bush Intercontinental (IAH)
Houston Hobby (HOU)
San Antonio (SAT)
Ronald Reagan Washington National (DCA)
Washington Dulles (IAD)
Boeing Field (BFI)
Seattle-Tacoma (SEA)
Airports I've flown into or out of
(International, in chronological order)
Paris-Charles de Gaulle (CDG)
Frankfurt (FRA)
Munich (MUC)
Shannon (SNN)
Milan-Malpensa (MXP)
Rome-Fiumicino (FCO)
Amsterdam Schiphol (AMS)
Zurich (ZRH)
London Heathrow (LHR)
Keflavik (KEF)
Oslo (OSL)
Copenhagen (CPH)
Helsinki (HEL)
Zagreb (ZAG)
Dubrovnik (DBV)
Brussels (BRU)
Bergen Flesland (BGO)
Trondheim Værnes (TRD)
Santiago (SCL)
Easter Island – Mataveri (IPC)
Buenos Aires Aeroparque Jorge Newbery (AEP)
Bariloche (BRC)
El Tepual – Puerto Montt (PMC)
Presidente Carlos Ibáñez del Campo, Punta Arenas (PUQ)
Comandante Armando Tola, Calafate (FTE)
Iguazu (IGR)
Foz do Iguaçu (IGU)
Rio de Janeiro–Galeão (GIG)
Mexico City (MEX)